Excel Sheet for helping with Reagent Enchanting & Character making
Hello Fractured Community~!
Update 2020-May-29:
We've been updating and playing the newest Alpha 2 - Test 2 (and working on trying to get one of those permanent keys!). We've notice a spike in the usage of the spread sheet and realize at some point the spread sheet may get to many users. So we're thinking of making a possibly website to handle sessions of users better. (also more freedom).
As for the current state of the spreadsheets. we've been updating them to the current alpha (Alpha 2- test 2). If you'd like to help contact me on discord or join our discord: https://discord.gg/6Q4Z2Q7
~
Fractured has been looking like a promising game for my partner (LittleMiss) and myself. We've enjoyed it! so we put in some time to start making a Excel sheet with data/info and a Reagent helper + Character Stat helper!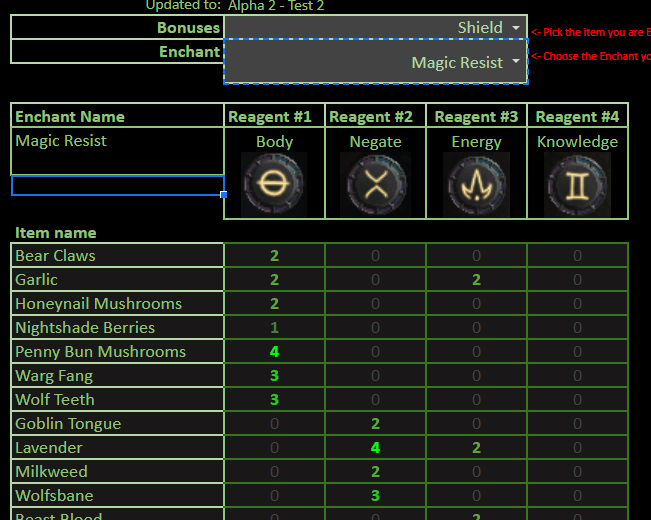 To use it
select one of the light gray boxes and select one of the options. anything in the lightgray boxes can be edited. If to many people are using the sheets. go to file and make a copy~ your copy does not updated when the master copy is edited so just keep that in mind.
ALSO please know It's not done yet and A LOT of info is still missing- here's the link
https://docs.google.com/spreadsheets/d/1UkAU9BUR5CEG7edgzvIhkZx35LS0h1UMAB_9TBBxYq8/edit?usp=sharing
if you would like to share your spread sheet or info with me or LittleMiss. message me on discord maze#4388
suggestions also welcomed.
our discord: https://discord.gg/6Q4Z2Q7
posted in General Discussions